Pneumatic Vacuum Cleaner - MOBY DICK
For any kind Drilling Fluid and/or cuttings spill at offshore/onshore drilling fields in all of the world.
Your crew may enjoy the Super powerful pneumatic vacuum cleaner "MOBY DICK" with fully automatic operations. It starts work with one(1) inch diameter air hose at Rig air inlet only. Just open the valve from Rig air supply, immediately after you can suck up spills. Filling pneumatic float switch module located upper inside of reservoir tank shall turn on, once filled and stored collecting spilled drilling fluids and cuttings reaches the maximum upper level, diaphragm pump discharges the stored spills instantly. After discharged all of spills out and the spills level come to bottom of empty, automatically re-starts vacuum action . The units comes complete sets with 2"suction hose, 3" discharging hose and suction handle with nozzle as well.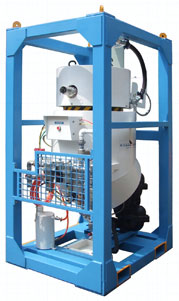 Specification and Dimensions
- Specifications -
Vacuum System

Compressed Air Pressure :

Case A : 0.4MPa, 4 bar (58 psi)
Case B : 0.2MPa, 2 bar (29 psi)

Vacuuming Pressure :

Case A : 36KPa (5.5 psi)
Case B : 16KPa (2.3 psi)

Water Vacuuming Speed :

Case A : 370L/min (97.1 gpm)
Case B : 200L/min (52.5 gpm)

Air Requirement :

175 cfm at 0.4MPa

Suction Hose Inlet :

50mm (2")

Noise Level at 1m :

86 dBa

Maximum operating temperature :

65degree C (150 F)

Reserve Capacity :

400L (105gal)

Discharge Pump - Husky 3275 Air Operated Diaphragm Pump

Maximum fluid working pressure :

0.8 MPa, 8 bar (120 psi)

Maximum free-flow delivery :

1,041 Liter per min (275 gpm)

Maximum size pumpable solids :

9.4 mm (3/8 in.)

Compressed Air Inlet :

25.4mm (1")

Maximum pump speed :

135 cpm

Fluid Outlet Hose :

75mm (3")

Wetted parts :

Aluminum, Teflon, Geolast® Santoprene,
Hytrel, plated steel, acetal, SST
*Not included compressing air hose.
Sound power mesured per ISO Standard 9614-2. Sound pressure measured 1 meter from Vacuum
Teflon®, Hytel® , and Viton® are registered trademarks of the DuPont Co.
Geolast® & Santroprene® are registered trademarks of the Monsanto Co.
Torix® is a registered trademark of Camcar, Division of Textron, Inc.
- Dimensions -
Height :

194cm (76.4inch)

Length :

120cm (47.2inch)

Width :

100cm (39.4inch)

Weight :

490kg (1080 lb)